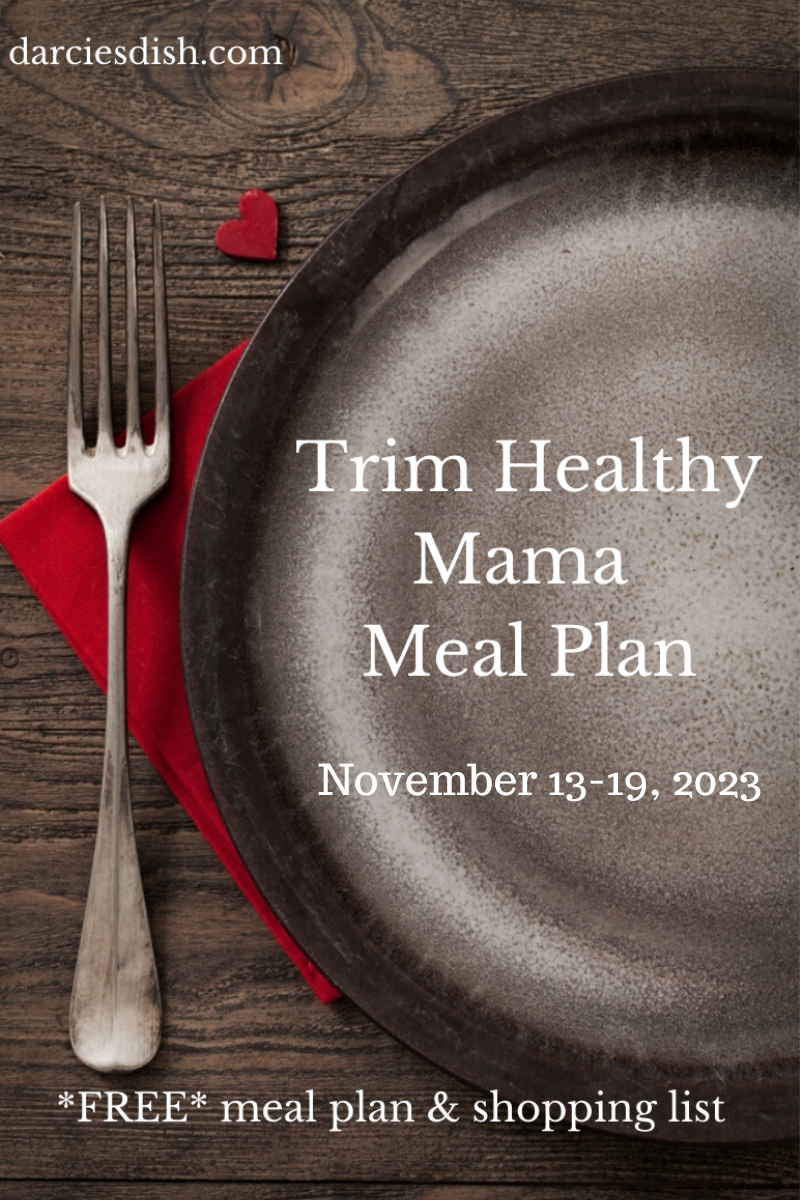 Wondering how or why to meal plan while eating the Trim Healthy Mama way? Read this first. Wondering what all the letters (S, E, FP) mean after each meal? Check this out.
I've added page numbers if the recipe comes from Trim Healthy Table or Trim Healthy Mama Cookbook book.
If you're still in search of even more meals or drinks take a look at 120 Family Friendly Meals, my top 30 "E" meals, my top 30 "S" meals, THM Mexican Meals, 20 Meatless THM Meals, 25 Bean Recipes, 30 Side Dishes, 38 THM Salads and Dressings, 35 THM BBQ ideas, THM Slow Cooker Recipes, my 20 favorite THM soups, my 20 favorite shakes, smoothies and cold drinks and my 30 THM snack ideas.
Also, be sure to follow me on Facebook and Pinterest so you never miss a meal plan, tip or recipe.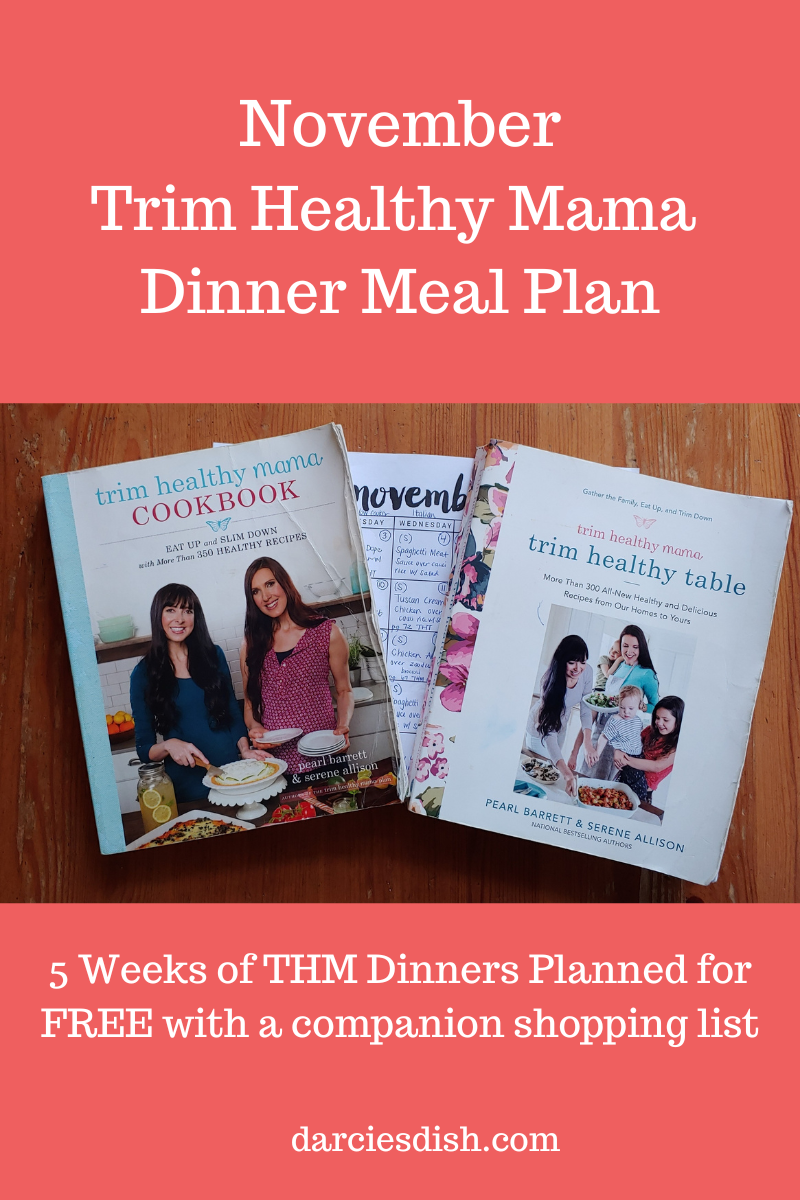 If you missed my November Monthly Dinner Meal Plan post, you can find it here. It is five week's worth of dinner meals! It is printable and as always, FREE. There is a shopping list included too.
In this month's meal plans I am going to be using online recipes, but also recipes from two different cookbooks. The cookbooks I'm using are the THM Cookbook and Trim Healthy Table.
***My meal plans are always FREE and available to print at any time. All breakfasts, lunches, and snacks are portioned for one unless otherwise noted. All dinners are portioned for 8.***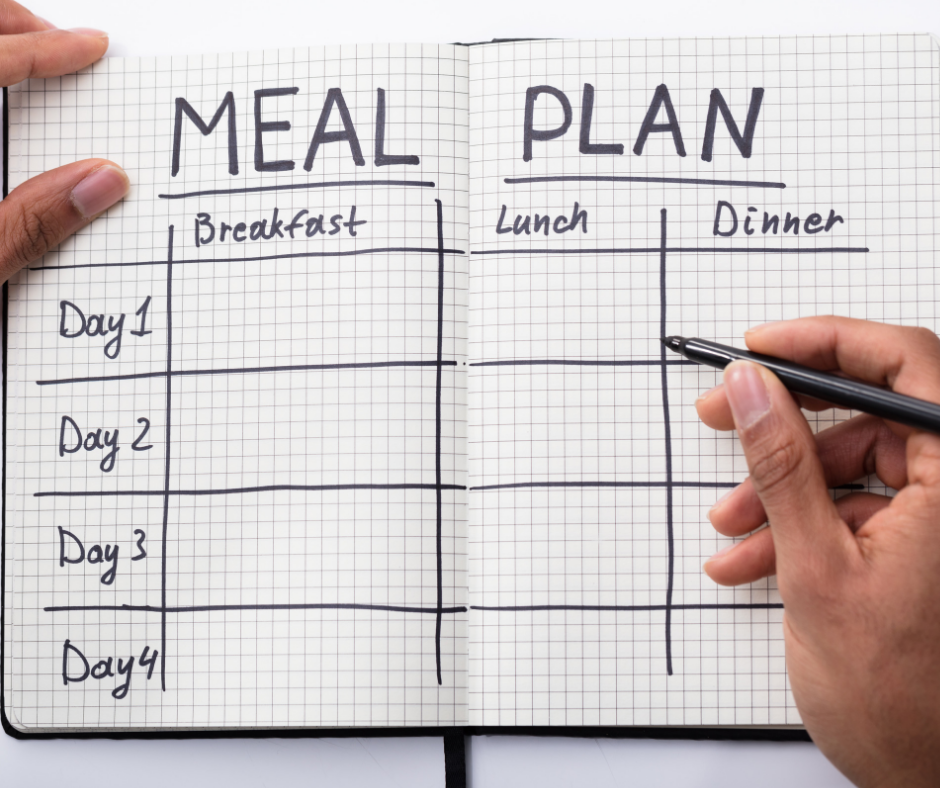 ***Add pressed peanut flour to the shopping list***
Here's what's on the menu this week:
Monday:
B – (2) scrambled eggs cooked in butter with (2) sausage links on the side and water to drink (S)
L – leftover Cabbage Roll in a Bowl with water to drink (S) ***This is leftover from last week's meal plan. The ingredients are NOT included on this week's shopping list.
S – 1/2 c. 2% cottage cheese with fresh veggies on the side and Tropical Dreams Cider Pop to drink (FP)
D – Taco Salad – ground beef over lettuce and topped with cheddar cheese, salsa and sour cream – with water to drink (S)
Tuesday:
B – Peanut Butter Cup Shake (S)
L – salad with (2) hard-boiled eggs and Ranch dressing with water to drink (S)
S – string cheese with bell peppers on the side and Tropical Dreams Cider Pop to drink (FP)
D – Hearty Two Bean and Lentil Chili with water to drink (E)
Wednesday:
B – 1/2 c. old fashioned oats mixed with 1 teaspoon Swerve Brown Sweetener, a diced apple and cinnamon with Peppermint tea to drink (E)