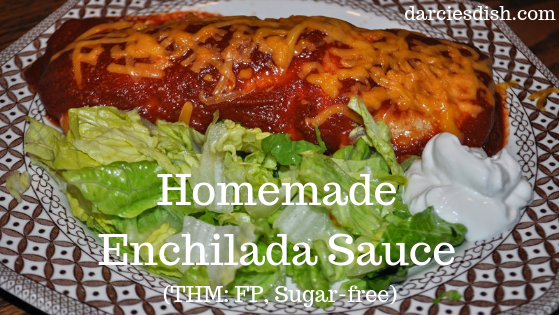 I love Mexican food. Like I really really really love Mexican food. If my family would agree to it, we would eat some form of Mexican food every. single. day. But since they don't share my love as much I usually have to make do with only once or twice a week.
One of my most favorite Mexican dishes is wet burritos. I used to just use a canned enchilada sauce, but since starting Trim Healthy Mama, I've tried to eliminate as much processed and gross ingredients as possible.
Almost every store brand enchilada sauce I checked had some form of sugar or other preservatives in it that I just didn't feel comfortable serving my family. I found a few other enchilada sauce recipes online but none of them made me fully satisfied. So after months of tweaking my own recipe I've FINALLY come up with the most scrumptious enchilada sauce.
This recipe can easily be doubled or tripled if needed. It uses basic ingredients that most people would have on hand: tomato sauce, chili powder, onion powder, garlic powder, oregano, cumin, salt and crushed red pepper flakes (only if you like a little extra spice).
My favorite way to use enchilada sauce is for making low carb enchiladas. My recipe for Low Carb Beef & Cheese Enchiladas is so simple to make.  It is a very yummy S meal. You could easily make this an E meal by using boneless skinless chicken breasts and not using any cheese or sour cream. You could have Greek yogurt on the side instead. I definitely prefer to make it an S meal though. I LOVE cheese and sour cream!
Another great use for this enchilada sauce is as a salad dressing! One night I ran out of low carb tortillas but made the sauce before checking. Oops! Well, it turned out to be a great thing. I just added the enchilada sauce to my taco salad and wow was it good!! Sometimes I do that instead of making an actual enchilada. Give it a try!
The beauty of this enchilada sauce it that it comes together so quickly. There is very little hands-on time required. I usually put my meat in the pan to brown and while that gets going I start my enchilada sauce. By the time my sauce is done simmering, my meat is done too. So simple!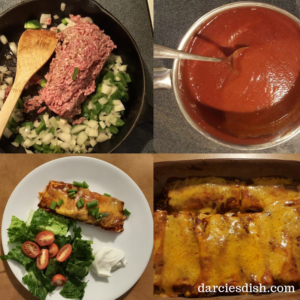 The most time-consuming part of making this sauce is gathering all the different spices you need. If you're like me you have to go digging through the spice cabinet to find them all. But once you have them all it comes together quickly.
Open your tomato sauce and add that to a small saucepan first. Then add all of the spices. Turn your heat onto low and simmer for 15 minutes. It is that incredibly easy to have your own delicious homemade enchilada sauce! You'll never need to buy the canned version ever again!
Enchilada Sauce (THM: FP)
Yield 1 cup
Ingredients
8oz. can of tomato sauce
1 1/2 t. chili powder
1/2 t. onion powder
1/2 t. garlic powder
1/4 t. sea salt
1/4 t. cumin
1/4 t. oregano
pinch of crushed red pepper flakes (optional)
Instructions
Combine all ingredients in a small saucepan and simmer on low for 15 minutes.