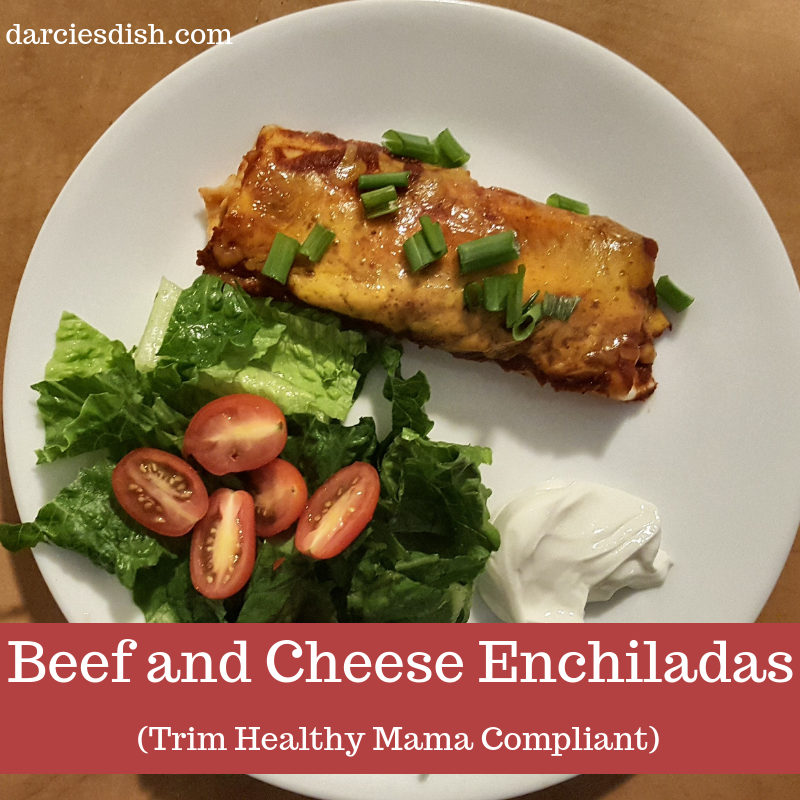 If you've read my blog for any length of time it will come as no surprise to you to see yet another Tex Mex inspired recipe. I just LOVE Tex Mex food and can't get enough of it. I try to limit it to once or twice a week for my family's sake, but if it were up to me it would be four or five times. 😉 I had Wet Beef Burritos on my October Dinner Meal Plan and many of you wanted to know how I made them. They really and truly are low carb enchiladas so I'll start calling them that. I decided I should write up a formal recipe instead of explaining it over and over again. Much easier to point you guys here!
These are a family favorite and my kids just devour them. I was hoping for some leftovers from the last batch I made, but no such luck! They are incredibly flavorful and one of my top 10 favorite foods. When I was pregnant with my boys I wanted them all the time! Thankfully this is a low-carb version. 🙂 For you Trim Healthy Mamas, this is an S dish.
You can make a couple of batches at a time and freeze the pans you won't be eating right away. Just make sure you put two layers of foil on them and completely defrost them before baking them. When you go to bake them in the oven remove one layer of foil.  I've started buying some of these foil pans so I can double and even triple some meals to have something healthy to pull out of the freezer on a busy night. I wash them and reuse them as long as they aren't damaged in any way.
Pin it for later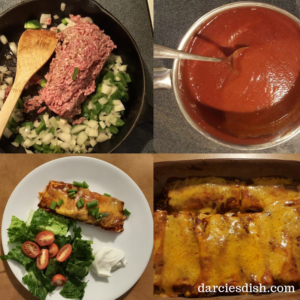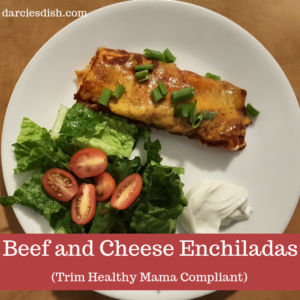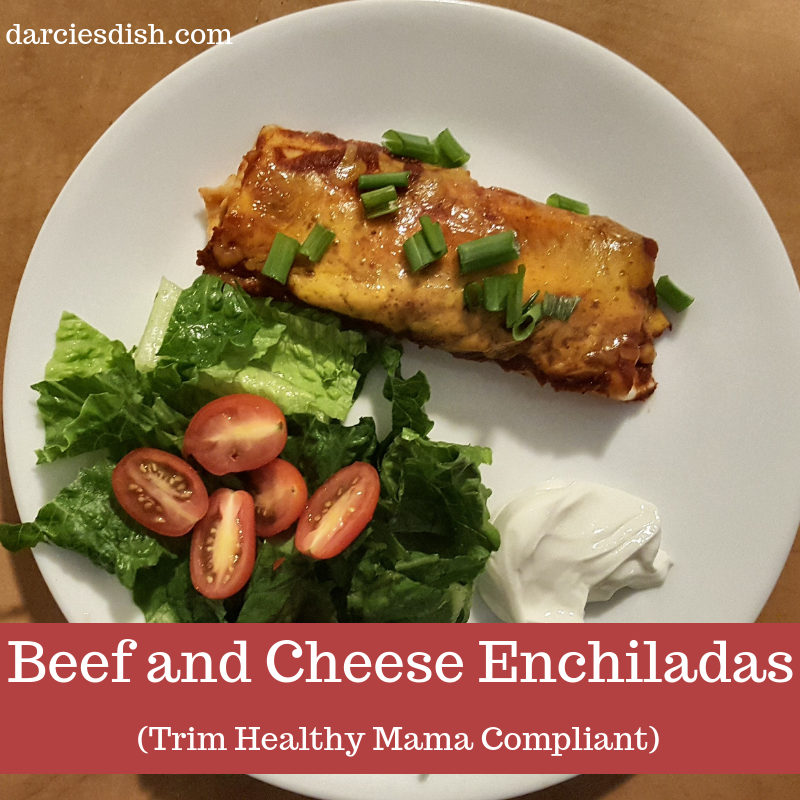 Print
Low Carb Beef and Cheese Enchiladas
Yield 10 enchiladas
Ingredients
Beef Filling:
1 lb ground beef
(1) onion, diced
1/2 green bell pepper, diced
(1) 4 oz can of diced green chiles 
2 T. taco seasoning
1/2 c. water
Enchiladas:
(1) pack of low-carb tortilla shells - I prefer La Banderita or Mission brand (If you do not follow THM feel free to use regular tortilla shells)
2-3 c. cheddar cheese 
double recipe of enchilada sauce
green onions, optional for garnish
sour cream, optional
lettuce, optional for on the side
Instructions
Pre-heat your oven to 350 degrees. Put the ground beef, onion and green bell pepper in a skillet and cook until beef is done. Drain the fat. Stir in diced green chiles, taco seasoning and water. Simmer for 10 minutes.
While the beef mixture is cooking make your enchilada sauce. You need a double recipe (or 16 oz) of enchilada sauce. If you use store-bought sauce, make sure you warm it up before using.
In a 9x13 baking dish spread 1/2 c. of the enchilada sauce all over the bottom of the pan. You want just a thin layer of sauce. 
Start assembling your enchiladas by placing some of the meat mixture and a pinch of cheddar cheese in each tortilla shell. Fold in the sides of the tortilla shell and roll it up, placing it seam side down in your baking dish. Repeat until all 10 tortilla shells are filled and ready to go.
Pour the remaining enchilada sauce all over the shells and top with the remaining cheese.
Cover with foil and bake for 20 minutes at 350 degrees.
Remove the foil and bake for 5 minutes more.
Remove from the oven and let it stand for 5 minutes.
Top with green onions, olives, cilantro, sour cream or salsa.
Cuisine Tex Mex