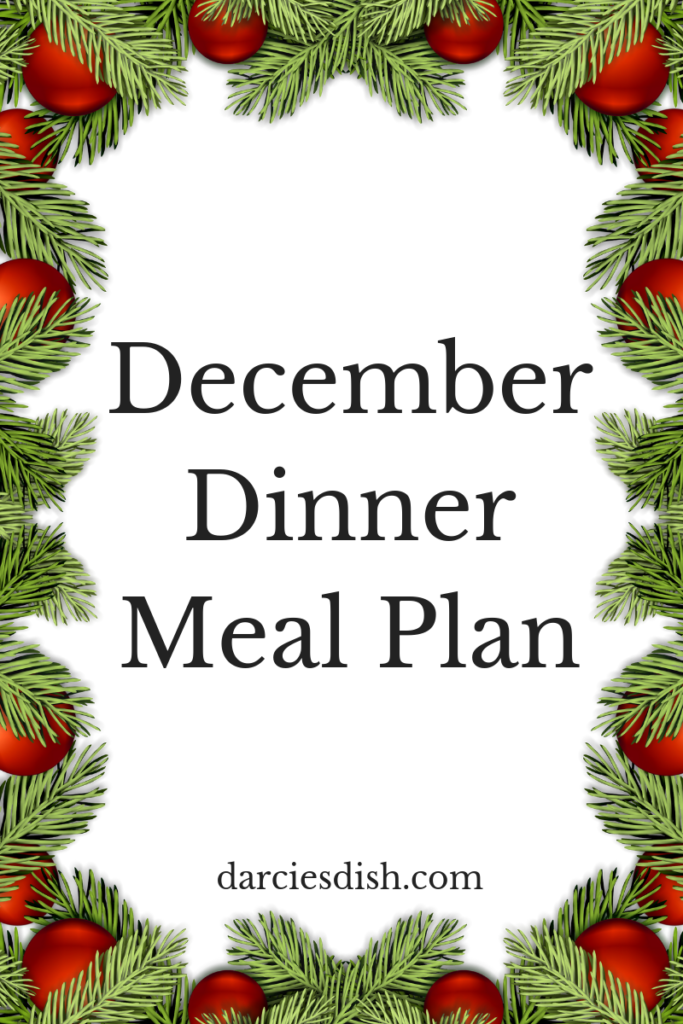 Can you believe that it is almost December? I'm still in disbelief at how quick November went by. Thanksgiving completely snuck up on me this year and here we are just a month away from Christmas!
A new month means a new month of meal plans! I'm definitely making a monthly dinner meal plan part of my regular routine. It has been so helpful for me and my family. Anytime one of my kids asks me what we're having for dinner, I just refer them to the calendar. I get tired of answering the dinner question ALL. DAY. LONG. Any other moms feel me?
I've had some great feedback from some of you too. I love hearing how my meal plans (or other resources) benefit your family. It also helps me to know what resources you all want and need. So keep the comments, emails and Facebook messages coming.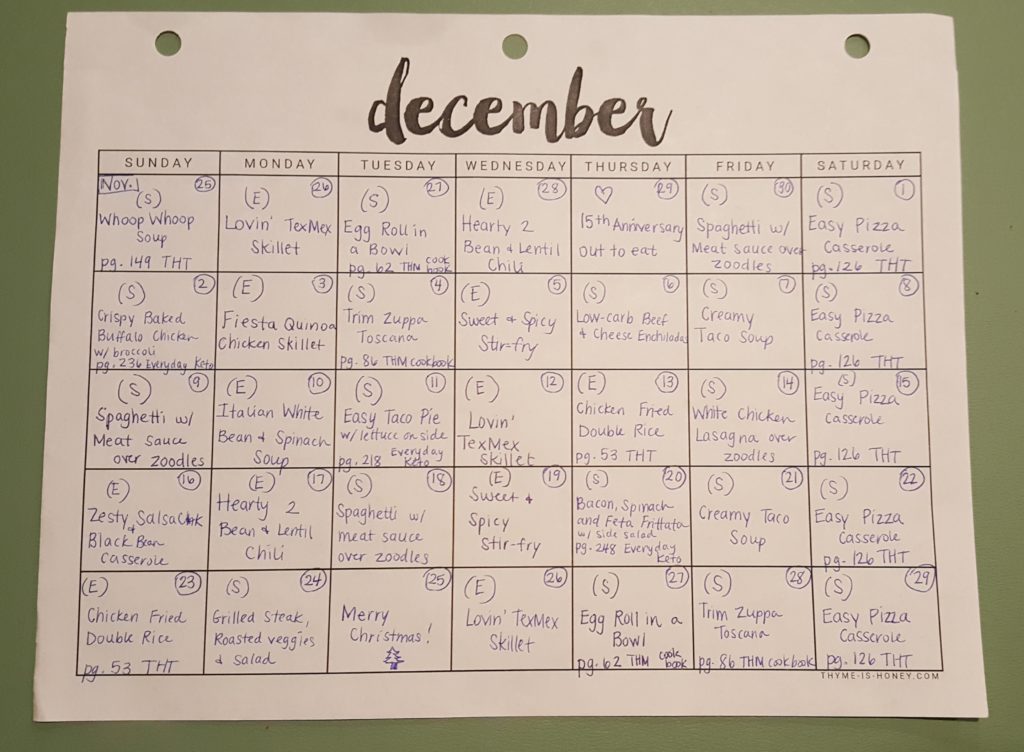 Printable Calendar
Pin it for later
You'll notice that this calendar has one week of overlap from the November meal plan. December doesn't technically start until Saturday, but I personally like to see whole weeks planned. So this is really five full weeks of dinner ideas. December 30 & 31 will be included with the January meal plan.
Also, this month I'm using the cookbook Everyday Ketogenic Kitchen a few times. This book is such a great resource to have on hand! It's written by Carolyn Ketchum from All Day I Dream About Food. She has hit it out of the park on this cookbook with so many delicious recipes! All the recipes follow keto and thus fit into the S category for Trim Healthy Mama. I highly recommend this book to anyone following Trim Healthy Mama or keto.
December 2018 week by week printable
Here's what's on the menu for the month of December:
Week #1: November 25-December 1
Sunday – Whoop Whoop Soup (S) pg. 149 in Trim Healthy Table
Monday – Lovin' TexMex Skillet (E)
Tuesday – Egg Roll in a Bowl (S) pg. 62 in THM Cookbook
Wednesday – Hearty Two Bean & Lentil Chili (E)
Thursday – My husband and I are celebrating our 15th wedding anniversary so out to eat for us
Friday – Spaghetti with Meat Sauce over Zoodles with a side salad (S)
Saturday – Easy Pizza Casserole with fresh veggies on the side (S) pg. 126 in Trim Healthy Table
Week #2: December 2-8
Sunday – Crispy Baked Buffalo Chicken with broccoli and a side salad (S) pg. 236 in Everday Ketogenic Kitchen
Monday – Fiesta Quinoa Chicken Skillet (E)
Tuesday – Trim Zuppa Toscana (S) pg. 86 in THM Cookbook
Wednesday – Sweet & Spicy Stir-fry (E)
Thursday – Low-carb Beef & Cheese Enchiladas (S)
Friday – Creamy Taco Soup (S)
Saturday – Easy Pizza Casserole with fresh veggies on the side (S) pg. 126 in Trim Healthy Table
Week #3: December 9-15
Sunday – Spaghetti with Meat Sauce over Zoodles with a side salad (S)
Monday – Italian White Bean & Spinach Soup (E)
Tuesday – Easy Taco Pie with lettuce on the side (S) pg. 218 in Everyday Ketogenic Kitchen
Wednesday – Lovin' TexMex Skillet (E)
Thursday – Chicken Fried Double Rice (E) pg. 53 in Trim Healthy Table
Friday – White Chicken Lasagna over Zoodles (S)
Saturday – Easy Pizza Casserole with fresh veggies on the side (S) pg. 126 in Trim Healthy Table
Week #4: December 16-22
Sunday – Zesty Salsa Chicken & Black Bean Casserole (E)
Monday –  Hearty Two Bean & Lentil Chili (E)
Tuesday – Spaghetti with Meat Sauce over Zoodles with a side salad (S)
Wednesday –  Sweet & Spicy Stir-fry (E)
Thursday – Bacon, Spinach and Feta Frittata (S) pg. 248 in Everyday Ketogenic Kitchen
Friday – Creamy Taco Soup (S)
Saturday – Easy Pizza Casserole with fresh veggies on the side (S) pg. 126 in Trim Healthy Table
Week #5: December 23-29
Sunday – Chicken Fried Double Rice (E) pg. 53 in Trim Healthy Table
Monday – Grilled steak, roasted vegetables and a side salad (S)
Tuesday – Christmas Day! – We will have ham, mashed cauliflower, green beans and a salad (S)
Wednesday – Lovin' TexMex Skillet (E)
Thursday – Egg Roll in a Bowl (S) pg. 62 in THM Cookbook
Friday – Trim Zuppa Toscana (S) pg. 86 in THM Cookbook
Saturday – Easy Pizza Casserole with fresh veggies on the side (S) pg. 126 in Trim Healthy Table