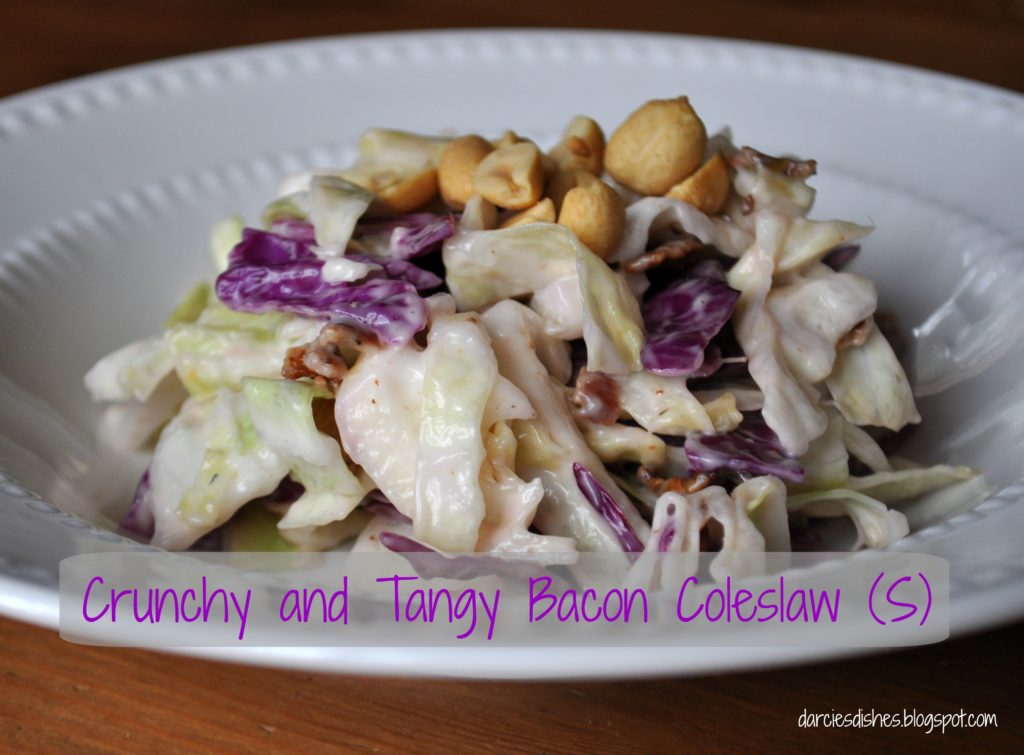 Oh my goodness you guys!!! This recipe is soooo good! You need to try it if you are even remotely a fan of coleslaw. I think because of the bacon it just goes over the top in the best way possible.
I just love coleslaw… It always reminds me of picnics, church potlucks, and family reunions. Now that warmer weather is on the way and we'll be grilling out more, I really wanted to come up with a coleslaw that was on plan, but still very delicious to accompany my grilled food.
This coleslaw hits all the right notes. It's sweet but tangy with a perfect little crunch from the nuts and cabbage. And bacon!!! It makes quite a bit, so it's great to bring to gatherings as well.
I like my coleslaw a little "chunkier" so I cut my cabbage by hand, but if you like your coleslaw to be thinner, then shred it on a box grater or in your food processor. Or if you're really short on time, buy the pre-shredded cabbage from the store. No shame in taking a little help from the store. 🙂
Coleslaw is such an inexpensive side dish. Cabbage at my Aldi is regularly $1.19 a head and in the spring it will go down to even $0.79. I can make this whole side dish for just a few dollars and boy does it please the taste buds.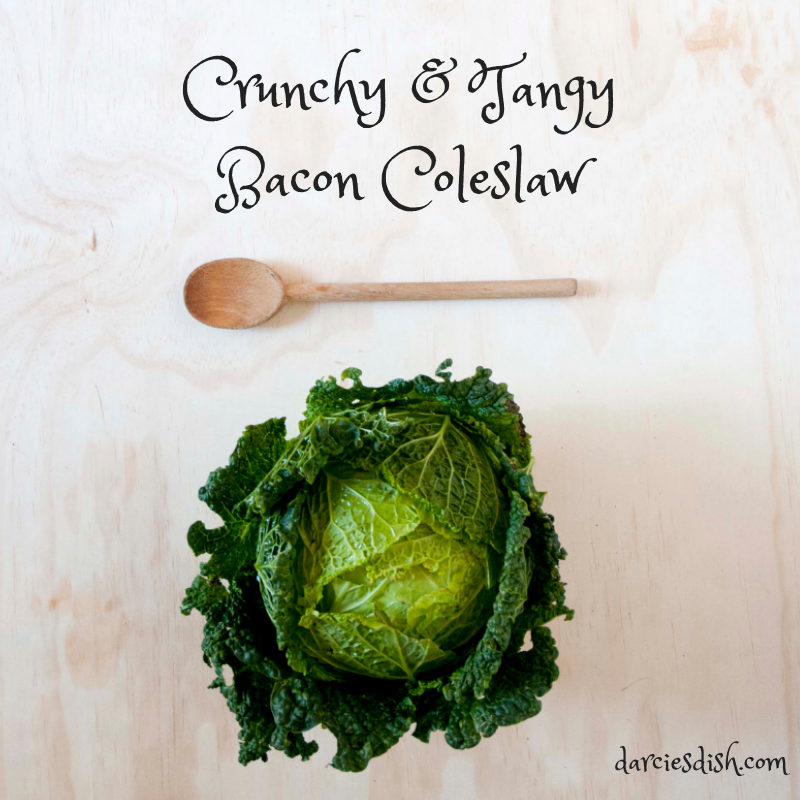 About a year ago I read about cooking bacon in the oven and wow, that is an awesome way to cook it! Line a bar pan (or a baking sheet with a lip on it) with aluminum foil. Lay your bacon in strips next to each other and line the pan. If they touch that is no big deal as they will shrink as they cook. Once you have your bacon lined up on the pan, put it in the oven.
YOU WILL NOT BE PREHEATING THE OVEN. Turn the oven on to 400 degrees and set the timer for 12 minutes. When the timer goes off, flip the bacon over and cook for 12 minutes more. If you like your bacon not very crispy, set the second timer to only 10 minutes. When it is done cooking drain the bacon off onto a paper towel lined plate. This is the most SIMPLE way to cook bacon every and no grease is splashing around your kitchen!
While the bacon is cooking mix the mayo, sweetener and apple cider vinegar in a large bowl.
Shred or dice your cabbage and add it along with the bacon and mix lightly. Let the coleslaw refrigerate at least 1 hour before serving. This helps the flavors really come together.
When you're ready to serve, add the nuts and stir to combine. You can leave the nuts whole or if you want to really stretch a buck, dice them up so it appears that there are more because they are in smaller pieces. 😉
I hope you love this coleslaw as much as my family does. It is such a crowd pleaser and you won't be disappointed!
Crunchy and Tangy Bacon Coleslaw (THM: S, low-carb, sugar-free)
Yield 8 side dish servings
Ingredients
3/4 c. mayonnaise *For those wishing to make their own mayo, here's a great recipe from Paleo Leap
1 t. THM Super Sweet Blend
1 1/2 t. apple cider vinegar
4 c. green cabbage, shredded
1 1/2 c. red cabbage, shredded
6 slices bacon, cooked until crispy and crumbled
1/2 c. nuts - sliced almonds or peanuts taste the best
Instructions
Mix mayo, sweetener and apple cider vinegar in a large bowl.
Add the cabbages and bacon to the bowl and mix lightly. Refrigerate at least 1 hour before serving.
When you're ready to serve, add the nuts and stir to combine.