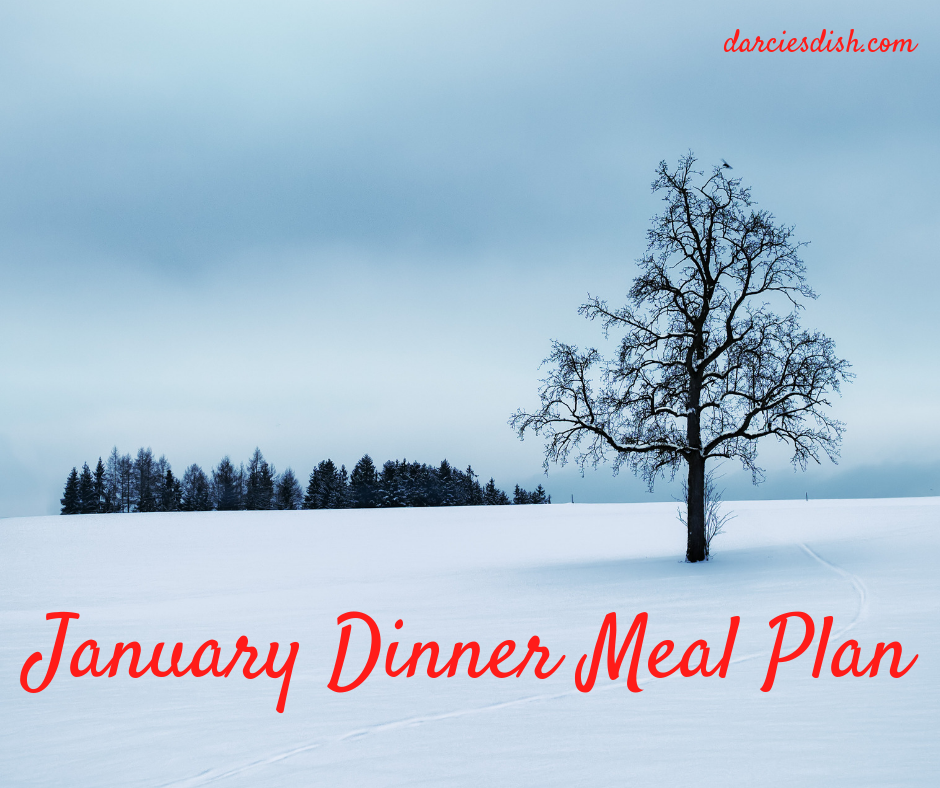 Can you believe that we made it to 2019? It seems absolutely crazy to me. It feels like 2018 flew by, but I think I say that about every year now. Ever since I had kids it just seems that time goes way too fast.
It's a new year! Is one of your goals for the new year to follow a meal plan? I am determined and committed to keep on developing and sticking to my meal plans.
Last fall life got a bit crazy and I was starting to veer off course a bit and I started feeling miserable. Trim Healthy Mama not only keeps you (or helps you get) slim and trim, but it just makes you feel better. I did awesome in late November and December so I'm committed to keeping on plan as close to 100% as possible. I just feel better which helps me in all areas of my life.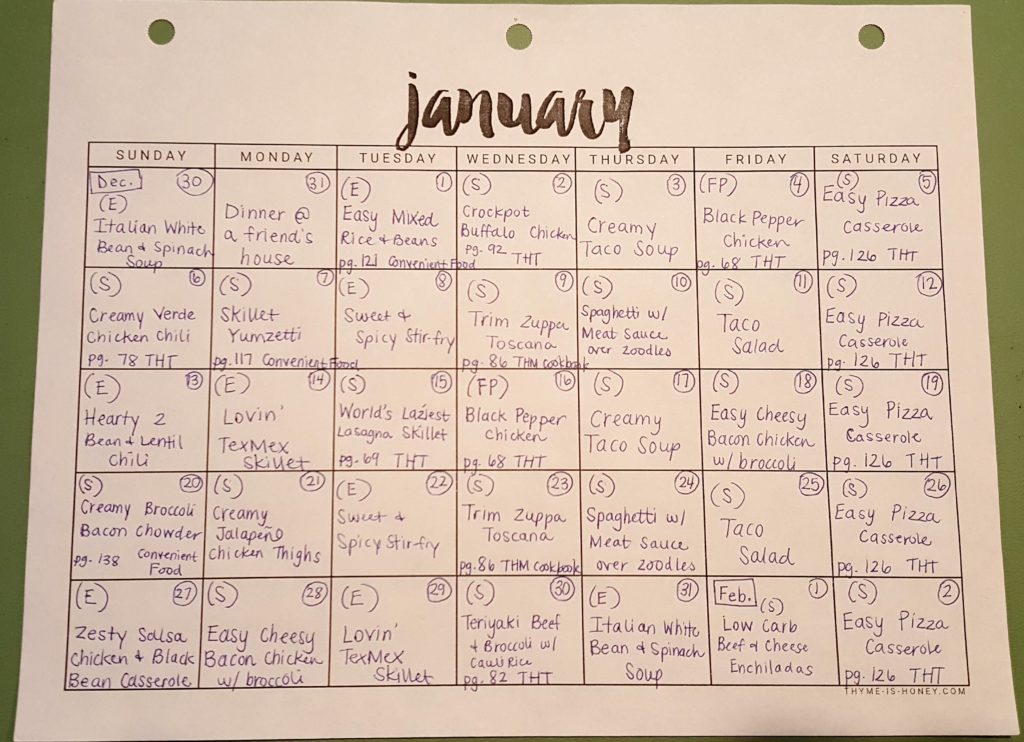 (Printable January Meal Calendar)
For the month of January, I will be using three different cookbooks, as well as some online recipes. The cookbooks I'll be using are the Trim Healthy Mama Cookbook, Trim Healthy Table and Convenient Food. A lot of you probably have the first two books, but the third one is by my blogging buddy, Briana Thomas Burkholder. It is a FANTASTIC book that I highly recommend adding to your collection. You can read my full review of it here.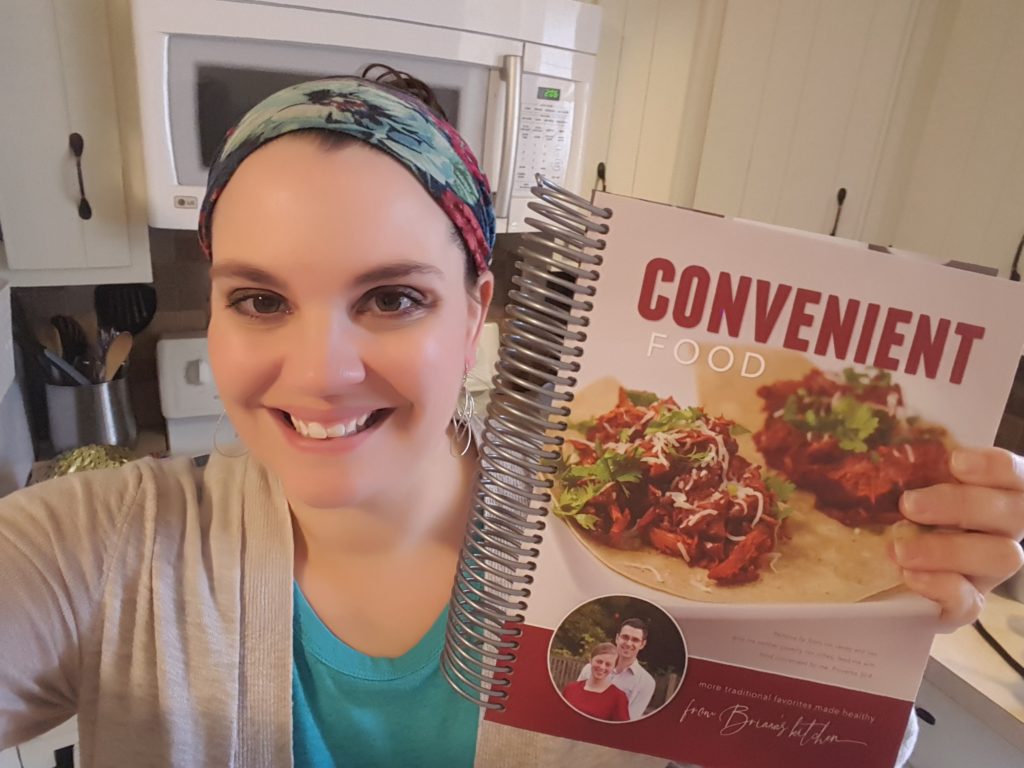 In addition to this month of dinner meals, each Monday I come out with a full meal plan for the week. By full meal plan, I mean that I plan out all meals, snacks and drinks. I try to make life on Trim Healthy Mama as simple as possible for my readers.
All of these meal plans are FREE, printable and come with a printable shopping list too. If you'd like to see some samples of my full meal plans, you can find them here. To ensure that you never miss a post you can sign-up to be on my e-mail subscriber list too. See the picture below on how to find out where to subscribe.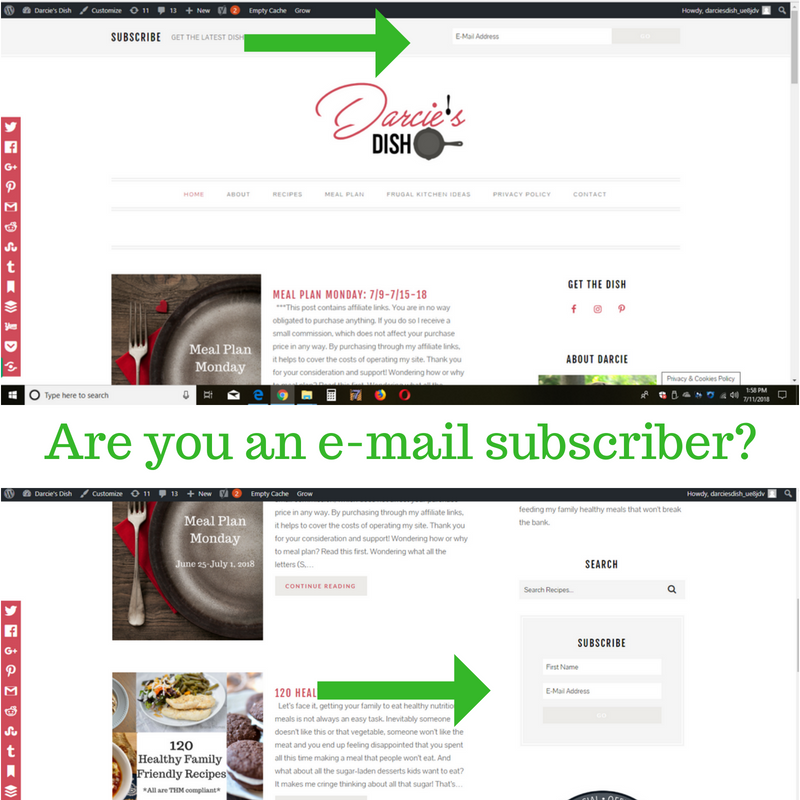 This month's dinner meal plan is for five full weeks. There is a couple of days of overlap from December and then a couple of days for February as well. My hope is that this dinner meal plan will help make your life a little easier, especially if you are newer to Trim Healthy Mama.
Week by Week Printable Meal Plan
Here's what's on the menu for January:
Week #1: December 30, 2018 – January 5, 2019
Sun – Italian White Bean and Spinach Soup (E)
M – Dinner @ a New Year's Eve party, I try to stick with S meals at parties
T – Easy Mixed Rice & Beans (E) pg. 121 in Convenient Food
W – Crockpot Buffalo Chicken in lettuce wraps (S) pg. 92 in Trim Healthy Table
Th – Creamy Taco Soup (S)
F – Black Pepper Chicken (FP) pg. 68 in Trim Healthy Table
Sat – Easy Pizza Casserole (S) pg. 126 in Trim Healthy Table
Week #2: January 6-12
Sun – Creamy Verde Chicken Chili (S) pg. 78 in Trim Healthy Table
M – Skillet Yumzetti (S) pg. 117 in Convenient Food
T – Sweet & Spicy Stir-fry (E)
W – Trim Zuppa Toscana (S) pg. 86 in THM Cookbook
Th – Spaghetti with meat sauce over Zoodles (S)
F – Taco Salad – ground beef, lettuce, cheddar cheese, sour cream and salsa (S)
Sat – Easy Pizza Casserole (S) pg. 126 in Trim Healthy Table
Week #3: January 13-19
Sun – Hearty Two Bean and Lentil Chili (E)
M – Lovin' TexMex Skillet (E)
T – World's Laziest Lasagna Skillet (S) pg. 69 in Trim Healthy Table
W – Black Pepper Chicken (FP) pg. 68 in Trim Healthy Table
Th – Creamy Taco Soup (S)
F – Easy Cheesy Bacon Chicken with steamed broccoli (S)
Sat – Easy Pizza Casserole (S) pg. 126 in Trim Healthy Table
Week #4: January 20-26
Sun – Creamy Broccoli Bacon Chowder (S) pg. 138 in Convenient Food
M – Creamy Jalapeno Popper Chicken Thighs (S)
T – Sweet & Spicy Stir-fry (E)
W – Trim Zuppa Toscana (S) pg. 86 in THM Cookbook
Th – Spaghetti with meat sauce over Zoodles (S)
F – Taco Salad – ground beef, lettuce, cheddar cheese, sour cream and salsa (S)
Sat – Easy Pizza Casserole (S) pg. 126 in Trim Healthy Table
Week #5: January 27-February 2
Sun – Zesty Salsa Chicken & Black Bean Casserole (E)
M –  Easy Cheesy Bacon Chicken with steamed broccoli (S)
T – Lovin' TexMex Skillet (E)
W – Teriyaki Beef & Broccoli with cauli rice (S) pg. 82 in Trim Healthy Table
Th – Italian White Bean and Spinach Soup (E)
F – Low Carb Beef & Cheese Enchiladas (S)
Sat – Easy Pizza Casserole (S) pg. 126 in Trim Healthy Table