If you've spent any time reading my blog or have hung around my Facebook page at all, you know that I LOVE shopping at Aldi. I do probably 85% of my grocery shopping there and have saved thousands and thousands of dollars over the years by doing so.
After many readers asking me for a shopping list, and me just randomly giving a list in a quick response, I decided to compile everything that I purchase in one great big list. This list is for items that are Trim Healthy Mama compliant.
I do purchase other off plan items for my family at Aldi, but I'm keeping this list just foods you would use while eating THM. This list is pretty exhaustive, but I wanted to be as thorough as I could.
If you purchase something at Aldi that is NOT on the list and is THM compliant, please let me know and I'll add it to the list.
Here are two things you need to know if you've never shopped at Aldi:
Bring a quarter for your cart. The carts are kept outside (typically) and you need a quarter in order to "unlock" it from the other carts. At the end of your shopping trip, return your cart, reattach it to the other ones and voila, your quarter pops back out and you get to keep it.
Bring your own bags. Part of the savings of shopping at Aldi, is that they don't pay for anyone to bag your groceries. You bag them yourself. I always bring my reusable bags, but if you don't have any, I'm sure you have a million plastic bags laying around at home. If all else fails, you can buy bags at the store.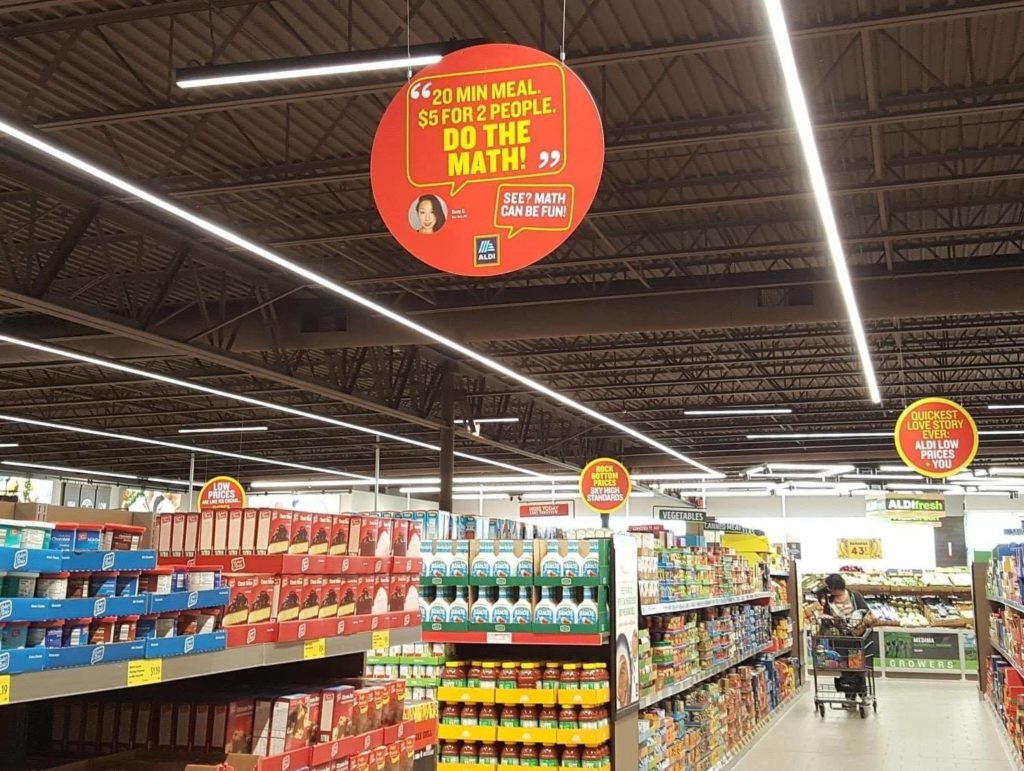 Aldi THM Shopping List
Dairy:
eggs
egg whites
block cheese
butter
Happy Farms Light Cheese (this is comparable to Light Laughing Cow Cheese)
unsweetened almond milk
heavy cream
1/3 less Fat cream cheese
sour cream
lg. container 0% Plain Greek Yogurt
cottage cheese
cheese sticks
sliced cheese (NOT American singles, the deli kind)
parmesan cheese
Feta cheese
Meat:
deli ham (Never Any! brand)
deli turkey (Never Any! brand)
turkey pepperoni
grass-fed ground beef
ground beef
boneless, skinless chicken breasts
lean ground turkey
boneless chuck roast
whole chickens
whole hams
whole turkeys
turkey bacon
chicken thighs
Frozen:
vegetables (broccoli, green beans, peas, corn, spinach)
berries
salmon (4-pk)
Fit & Active turkey meatballs
Produce: (most times their produce is great, but every once and a while it's not, so just double check it before purchasing)
baby spinach
3 pack of Romaine Lettuce
2# carrots
baby carrots
celery
onions (red, yellow and sweet)
green onions
jalapenos
cilantro
sweet potatoes
green cabbage
bell peppers (green, red, yellow and sometimes minis)
iceberg lettuce
asparagus
zucchini and summer squash
garlic
various other veggies depending on the season
berries (strawberries, blueberries, raspberries)
bananas
apples
grapes
spaghetti squash
butternut squash
various other fruits depending on the season
Jarred/Canned:
tomatoes (diced, stewed, Italian)
tomato paste
tomato sauce (double check that it doesn't contain any High Fructose Corn Syrup, some shoppers have seen tomato sauce with it, but the cans I bought last night did NOT have any)
tomatoes with green chilies (like Rotel)
spaghetti sauce (red label has no added sugar)
canned beans (black, kidney, garbanzo, Great Northern)
artichoke hearts
tuna packed in water
unsweetened applesauce
pumpkin (tends to be seasonal)
diced green chilies (tends to be seasonal)
chicken
olives – green and black
salmon
Dry Grocery:
assorted nuts (peanuts, walnuts, almonds, pistachios, etc…)
basic spices (salt, pepper, garlic powder, onion powder, chili powder, red pepper flakes, cinnamon, Italian seasoning, seasoning salt, cumin, paprika, basil, oregano)
cocoa powder
olive oil
extra-virgin olive oil
balsamic vinegar
Sweet Additions stevia packets (NOT the baking type in the big bag)
brown rice
quinoa
low sodium soy sauce
pure vanilla extract
pure peppermint extract (this is a seasonal item)
almond flour (my store does always have this in stock, so when you see it, stock up)
coconut oil
chia seeds
flax seeds
old-fashioned oats
steel cut oats
hot sauce
dried beans (black, pinto, Great Northern)
85% dark chocolate bar
Fit & Active Flat Bread (original kind)
Silver Hills Sprouted Bread