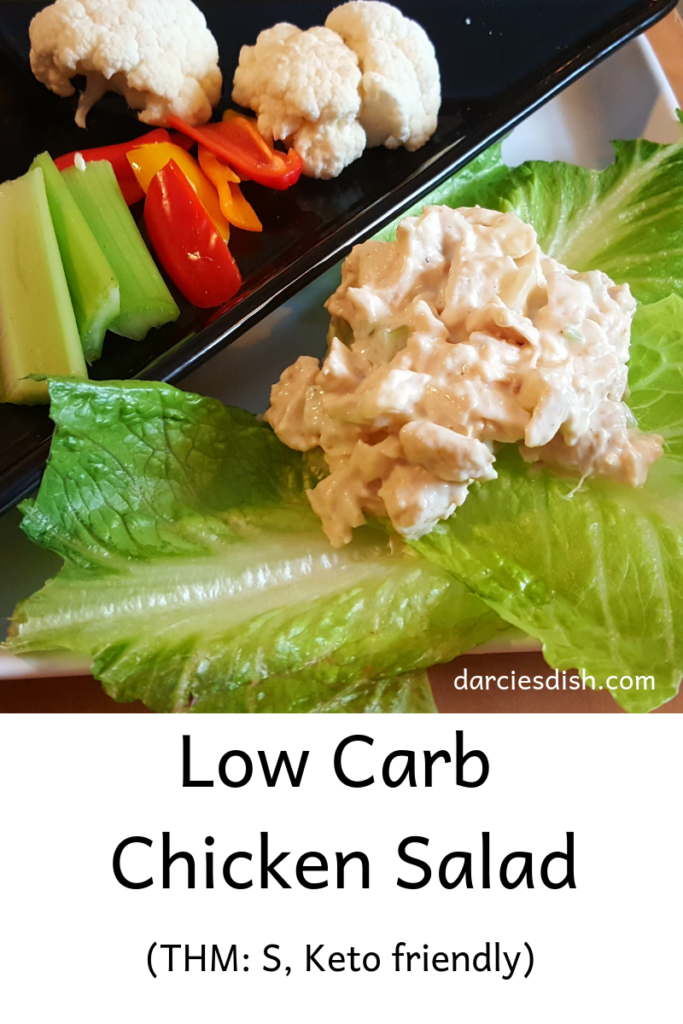 I absolutely love chicken salad! I've made it so many different ways over the years that I've lost count. The way that I'm sharing in this post is my most favorite way.
Not only is it low carb so it fits with the Trim Healthy Mama way of eating, but it also is incredibly delicious yet simple and has a perfect blend of flavors. This salad fits with keto or any low carb way of eating.
I go through phases of my life where I crave chicken salad. I'm not sure what that really means, but it has happened to me a few times in my adult life. Most recently when I was pregnant with my 5th baby I wanted it constantly.
This recipe reminds me of the Willow Tree chicken salad recipe. Remember those parties that sold the food mixes?
This to me tastes extremely similar. This recipe, however, is completely on plan with Trim Healthy Mama and is much much more affordable to make.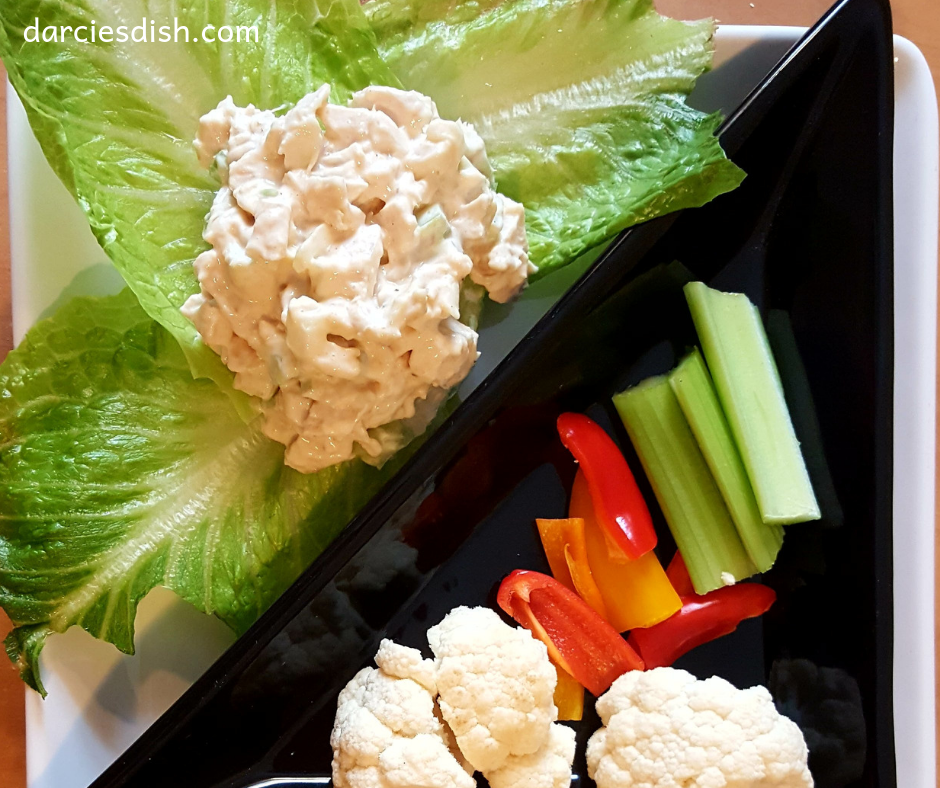 Since this recipe is low carb and falls into the S categories of meals, you can use dark or light meat chicken. I cooked a whole chicken in my Instant Pot and used some of the dark and light meat. You could even buy a rotisserie chicken and that would make this recipe even easier than it already is.
Maybe one of the reasons I like chicken salad so much is because you can make it taste completely different just by tweaking a few ingredients and the way that you prepare the meat. You can shred the chicken or dice it into small chunks. I prefer to have it in small chunks, but feel free to prepare the meat as you would like it best.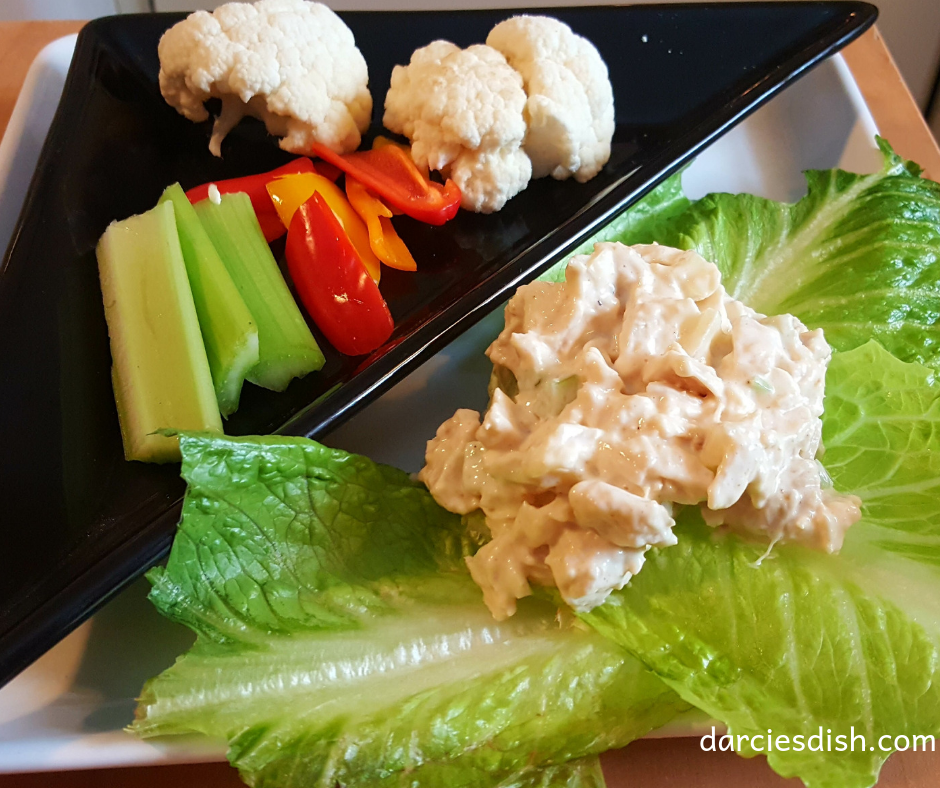 To make this recipe you need to start with 1 pound of cooked chicken. Again, you choose dark and/or light meat and how you want it prepared. Once you have it diced or shredded how you like, place it in a medium size mixing bowl.
Next, add 3/4 cup mayonnaise to the mixing bowl. You can use a store-bought version or if you're feeling like a queen in the kitchen that day, make your own. I usually just use store-bought.
Then you're going to add in your vegetables and spices. Make sure your celery and onions and finely minced. They still add a nice crunch to the salad but aren't going to be these massive bites that overpower the chicken. You're going to add 1/4 cup EACH of celery and onion.
Next, you're going to add 1/4 teaspoon of garlic powder, 1 tablespoon of Swerve Brown Sweetener ***(see note below) and salt and pepper to taste. I usually use two pinches of salt and one of pepper but again, make it your own and season it how you like it. Mix all your ingredients together.
I love my chicken salad served on a bed of Romaine lettuce with fresh vegetables on the side. You could also serve it on a low carb tortilla and enjoy it with some fresh vegetables and berries. This chicken salad makes for an easy lunch that is satisfying and delicious!
***If you don't have Swerve Brown Sweetener, you can use this recipe from My Montana Kitchen. I just find it easier to buy the bag and have it on hand for whenever the need arises.
One word of caution if you use the recipe from My Montana Kitchen, I'm not sure if it is going to measure the same as the Swerve Brown Sweetener or not. It could need more or less. I would suggest starting with 2 teaspoons and taste the salad. If it needs more add it in 1 teaspoon at a time. I have not personally used her recipe, but I've always loved everything I've tried from her site.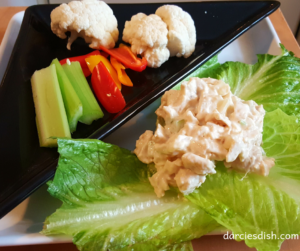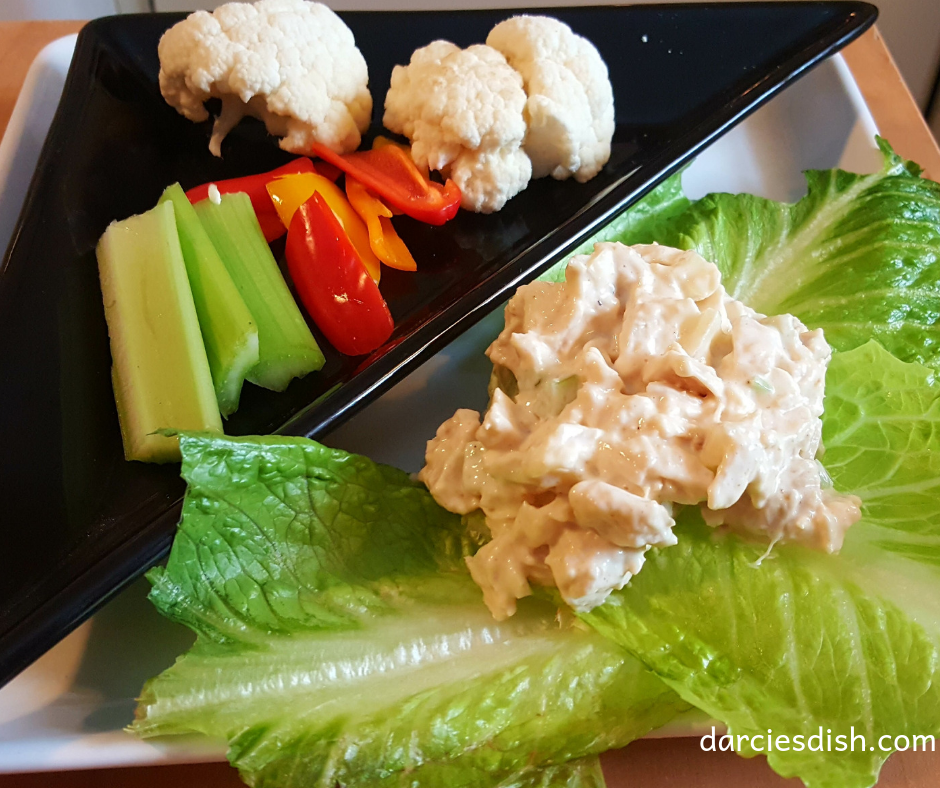 Print
Low Carb Chicken Salad
Yield 4 servings
Ingredients
1 lb cooked chicken, light or dark meat
3/4 c. mayonnaise
1/4 c. celery, finely minced
1/4 c. onion, finely minced
1 tablespoon Swerve Brown Sweetener
1/4 teaspoon garlic powder
salt and pepper to taste (I usually do 2 pinches of salt and 1 of pepper)
Instructions
Shred or dice the chicken to your liking and place in a medium-sized mixing bowl.
Add the remaining ingredients to the bowl and stir until completely combined.
Serve on a bed of Romaine lettuce or a low carb tortilla. It goes great with fresh vegetables and some berries.