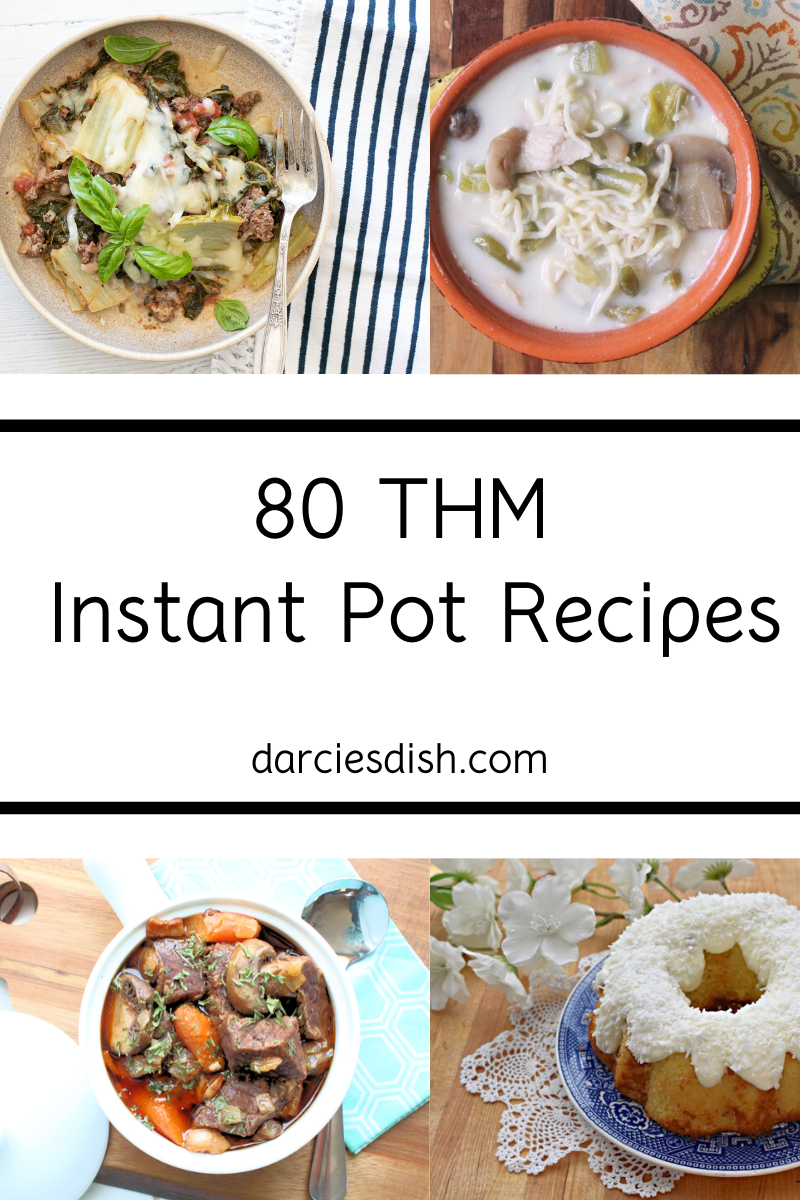 A few years ago I did a very wise thing for myself and bought an Instant Pot. My life in the kitchen has never been the same since! I know that may seem a little dramatic to some, but I honestly love my Instant Pot and use it almost daily.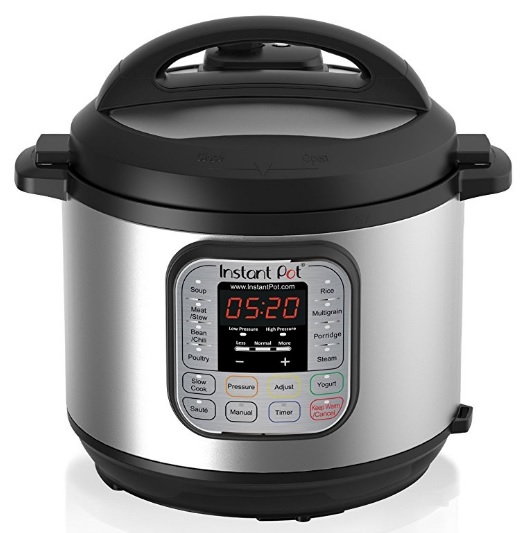 I have a family of 7 and purchased the 6-quart Instant Pot. It is a good size, but I do sometimes wish that I had purchased the 8-quart for making big batches of things like rice, hard-boiled eggs, meat and even some soups.
If you have my family size or bigger I would recommend purchasing the 8-quart. For those of you with SUPER MEGA large families, there is a 14-quart option as well.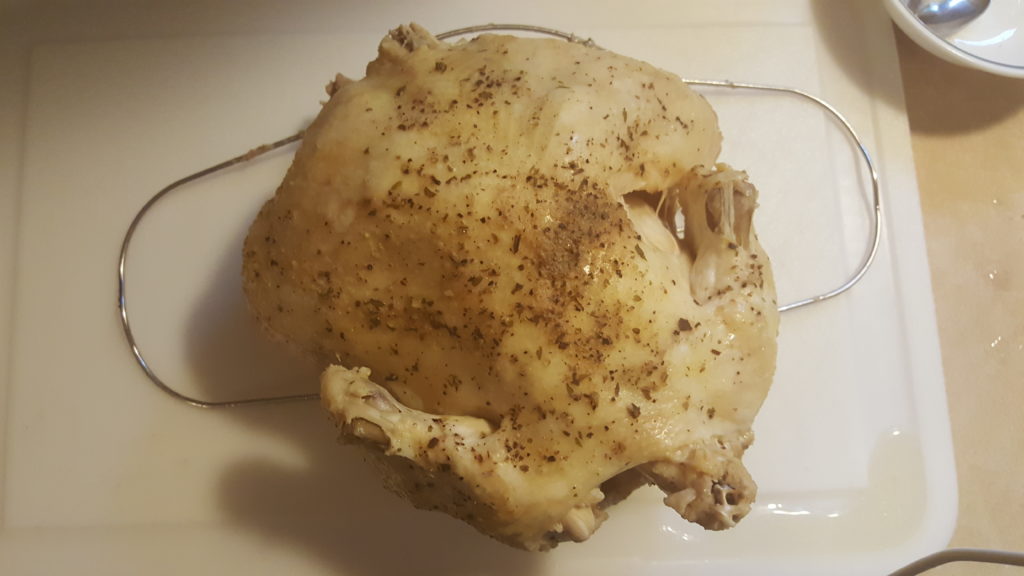 When I first purchased my Instant Pot I used it mainly for prepping food ahead. I would make large batches of beans, brown rice, chicken breasts, whole chickens, hard-boiled eggs, ground beef, etc… I loved it right from the start.
But then I started making FULL meals in it. This was another game-changer for me. I could dump everything in and have a full meal ready typically in about 30 minutes or so.
I'm always on the hunt for Trim Healthy Mama meals that I can make in my Instant Pot.  I enlisted the help of some of my blogging friends to compile this list of 80 THM Instant Pot Meals. There are main meals, sides, soups and even desserts. This is the Trim Healthy Motherload of Instant Pot recipes!
All the recipes are broken down by fuel type and category. I hope you find some winners to add to your recipe collection!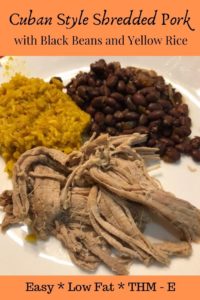 (Cuban Style Shredded Pork)
(E) Main Dishes:
Apple Pie Oats from The Healthy Milestone
Chicken and Rice from My Montana Kitchen
Chocolate Java Oatmeal from Oh Sweet Mercy
Cuban Style Shredded Pork from An Ordinary Housewife
Curried Chicken and Brown Rice from Country Girl Cookin'
Pumpkin Spiced Oatmeal from My Montana Kitchen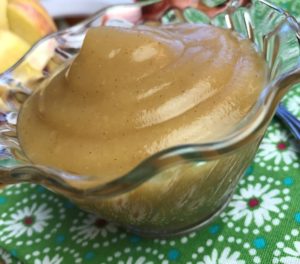 (Cinnamon Apple Sauce)
(E) Side Dishes:
Barley Beans and Greens from The Healthy Milestone
Brown Spanish Rice from me at Darcie's Dish
Chili Lime Black Beans from Oh Sweet Mercy
Cinnamon Apple Sauce from Country Girl Cookin'
Peach Mango Compote from The Healthy Milestone
Simple Plum Butter from The Healthy Milestone
Spanish Rice from The Healthy Milestone
Refried Beans from me at Darcie's Dish
Taco Rice from My Table for Three
Turkey Breast from The Healthy Milestone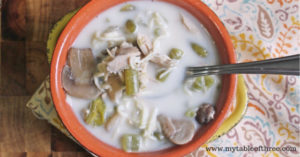 (Creamy Chicken Noodle Soup)
(E) Soups:
Butternut Squash Soup from A Ray a Hope Health
Cabbage Roll Soup from Nana's Little Kitchen
Chicken and Chickpea Stew from My Table for Three
Chicken Tender Stew from The Healthy Milestone
Creamy Chicken Noodle Soup from My Table for Three
Hamburger Stew from The Healthy Milestone
Hearty Chili from Molly Miller Health
Taco Soup from Around the Family Table
Tomato Barley Turkey Soup from The Healthy Milestone
Turkey Tomato Florentine Soup from The Healthy Milestone
Vegetable Beef Soup from Nana's Little Kitchen
White Chicken Chili from An Ordinary Housewife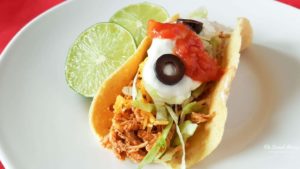 (30 Minute Chicken Tacos)
(FP) Main Dish:
30 Minute Chicken Tacos from Oh Sweet Mercy
Magical IP Ground Beef Hack from Oh Sweet Mercy (can be made as E or S too!)
Meatloaf from The Healthy Milestone (can be as E too!)
Mushroom Bay Chicken from Oh Sweet Mercy (can be made E or S too!)
Salsa Verde Chicken from My Montana Kitchen
Shredded Chicken Breast from An Ordinary Housewife
Spaghetti Sauce from My Montana Kitchen
Tomato Basil Chicken from Oh Sweet Mercy (can be made as E or S too!)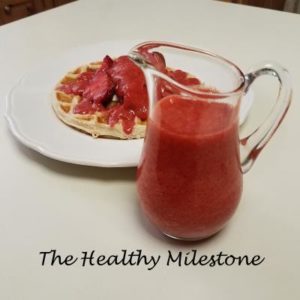 (FP) Side Dishes:
Strawberry Rhubarb Sauce from The Healthy Milestone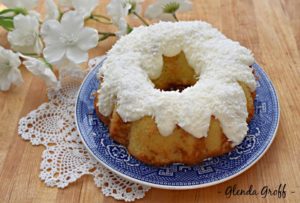 (Coconut Bundt Cake)
(S) Desserts:
Blackberry Flaugnarde from The Healthy Milestone
Coconut Bundt Cake from Around the Family Table
Lemon Sticky Cake from The Healthy Milestone
Mocha Cheesecake from The Healthy Milestone
Peanut Butter Cheesecake from the Healthy Milestone
Pumpkin Cheesecake from The Healthy Milestone
Pumpkin Pie Pudding Cups from The Healthy Milestone
Raspberry Cheesecake from The Healthy Milestone
Simple Cheesecake from The Healthy Milestone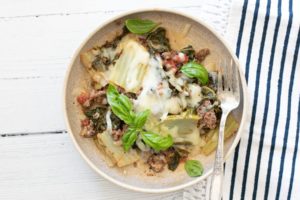 (Lasagna)
(S) Main Dishes:
Beefy Tomato Penne Pasta from The Healthy Milestone
Bruschetta Chicken from Wonderfully Made and Dearly Loved
Cafe Chicken from Wonderfully Made and Dearly Loved
Carnitas from Joy Filled Eats
Chicken Cacciatore from Wonderfully Made and Dearly Loved
Chicken Cordon Blue Cups from Wonderfully Made and Dearly Loved
Chicken n' Olives from Wonderfully Made and Dearly Loved
Coffee Roasted Beef and Pork from Around the Family Table
Cottage Cheese Casserole from Wonderfully Made and Dearly Loved
Creamy Egg Cups from Wonderfully Made and Dearly Loved
Easy Cheesy Stuffed Peppers from Wonderfully Made and Dearly Loved
Italian Egg Bites from Country Girl Cookin'
Lasagna from Yellow Glass Dish
Meatloaf from Anointed With Oil of Joy
Meatballs from Joy Filled Eats
Mississippi Pot Roast from Wonderfully Made and Dearly Loved
Paprika Chicken from Yellow Glass Dish
Porcupine Meatballs from My Montana Kitchen
Pot Roast from Joy Filled Eats
Powerhouse Meatloaf from The Healthy Milestone
Richard's Favorite Pot Roast from The Healthy Milestone
Salisbury Steak from The Healthy Milestone
Smoked Paprika Chicken and Mushrooms from Oh Sweet Mercy
Western Omelet Quiche from The Healthy Milestone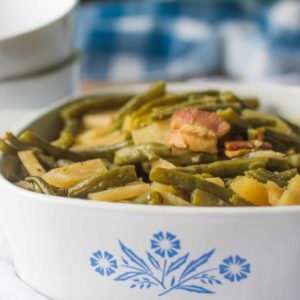 (Southern Style Green Beans and Jicama)
(S) Side Dishes:
Bacon and Blue Cheesecake from Wonderfully Made and Dearly Loved
Cauliflower Mac and Cheese from Yellow Glass Dish
Green Bean Casserole from Yellow Glass Dish
Southern Style Green Beans with Jicama from Nana's Little Kitchen
Stuffed Artichokes from Wonderfully Made and Dearly Loved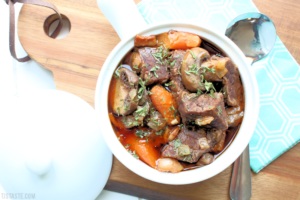 (Beef Burgundy)
(S) Soups:
Beef Burgundy from TJ's Taste
Dressed Up Turkey Soup from Wonderfully Made and Dearly Loved
Garlic Rosemary Tomato Soup from Oh Sweet Mercy
Italian Sausage & Squash Soup from Wonderfully Made and Dearly Loved
Quick and Meaty Chili from Oh Sweet Mercy (can be made as E or FP too!)