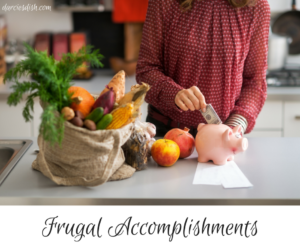 Over the years my family has had varying levels of income. During the leaner times, I was forced to learn many new skills and ways to save money. I'm so thankful for the leaner times, as hard as they were because I feel like I gained so much knowledge that I would never have learned otherwise.
Being frugal does NOT mean your life has to be boring and feel restrictive! If you're looking for some new ways to save money, you're in the right place!
Here's what  I did to save money this week:
I earned a $10 gift card from Fetch Rewards. This is such an easy program to earn gift cards. All you do is scan your grocery receipt after you are done shopping and you earn points. This can be from any major retailer like Aldi, Walmart, Meijer, Kroger, Costco, Sam's Club etc… Just download the app in your app store (it's called Fetch Rewards) and use code H8DGC when you register and we will each earn 2,000 points. Gift cards start at 3,000 points. It is so simple and easy!!!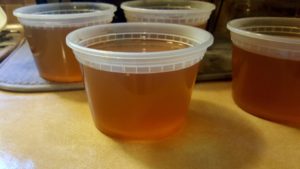 I made 2.5 quarts of vegetable broth in my Instant Pot. I save veggie scraps and keep them in a ziplock in the freezer. Once the bag is full I dump them in my Instant Pot, add a few spice and water to the top and let it slow cook for about 7-8 hours. I strain the broth and put it in freezer safe containers. It is so simple and almost FREE. For years I threw away veggie scraps never thinking twice, but now I have vegetable broth to last me many months.
My husband and I had a date night and went to Qdoba. I ended up having a free entree coupon for my birthday and a free entree coupon for the anniversary of my Qdoba rewards card. So we ate for FREE! It was such a blessing!
We ate all meals at home (or family party) other than the Qdoba trip mentioned above.
Made sandwich bread for my husband and kids. Not only does it taste better, but it is healthier and cheaper too!
Ate up all the leftovers.
I went to Aldi for a produce run. I only bought what was on my list and spent only $24 on groceries for the week. For those of you wondering, I shop mostly once a month and then fill-in with produce/milk runs another time or two in the month. I'm hoping to get a post done about how I shop soon.
We accepted a free watermelon from my grandma. The kids LOVE watermelon so they were so excited!
I took an inventory of the freezers (I have 2 deep freezers and a regular above the fridge freezer), fridges (one house and one in the garage) and pantry to see what we had on hand. Now that I know exactly what is in there I can plan my meals accordingly, thus saving me money at the store.
I started going through closets and cabinets to set aside items for a garage sale. I have some furniture that I'm going to sell too. Now I just need to actually get my act together and have the sale!