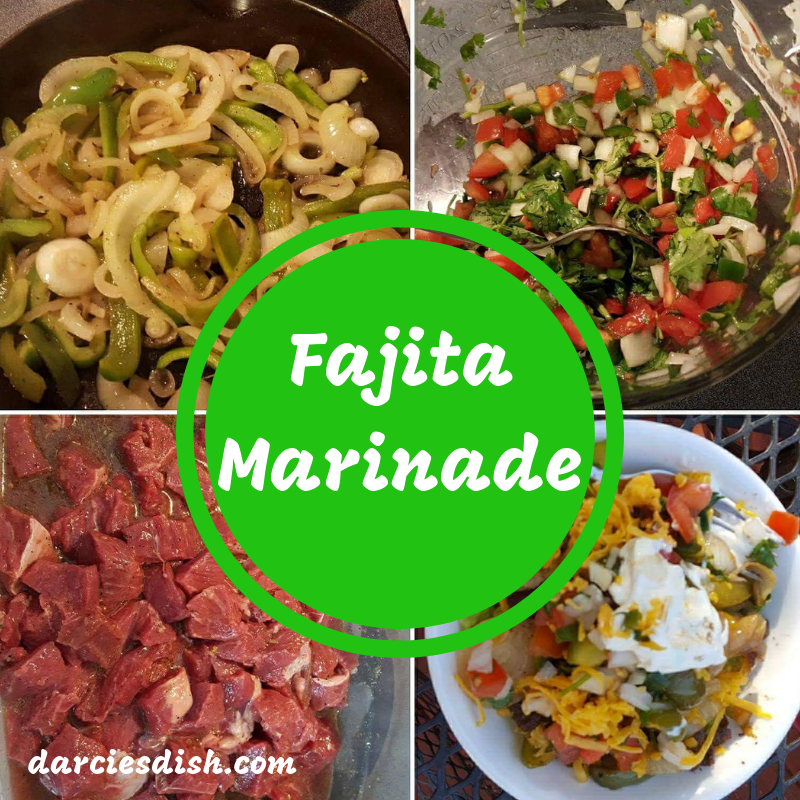 I love Mexican food! I could eat it every single day of my life. I love getting fajitas at a restaurant but hate the price tag that comes with them. This marinade is what I came up with to duplicate the flavor of restaurant style fajitas.
It is great on chicken, beef (not ground) or shrimp as well as vegetables. I typically use onions and green peppers, but zucchini or summer squash would be great too.
This recipe is enough to marinate 4 chicken breasts, 2 bell peppers, and 3 onions. If I'm using steak I usually use 2 pounds, and usually a flank steak. If you decide to use two different types of meat marinate them in two separate containers. You do not want cross contamination happening with your food. It is also imperative that you marinate your meat separate from your vegetables.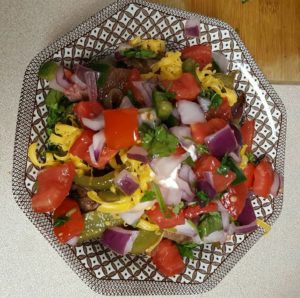 I usually serve this on a low-carb tortilla. However, I've been really enjoying it in a bowl like a fajita salad. It is so good and you can load the delicious toppings. My favorite toppings are cheddar cheese, sour cream, jarred jalapenos, cilantro, pico de gallo, regular salsa or guacamole. Oh my goodness it is so so so good!
Pin it for later.
(Beef broth not pictured)
Start by gathering all your ingredients. Grab two containers (one for your meat and one for your vegetables) that have lids. I usually use a medium size mixing bowl and a larger Pyrex, but use what you have.
In the mixing bowl add all the ingredients for the marinade and stir it really well. Pour half into your other container. Put your cut vegetables in one container and your meat in the other. Put it in the refrigerator for at least 4 hours. You can marinate for up to 24 hours.
Once the marinating process is complete you can either cook the food on a grill or stove top. We usually cook the meat on the grill and then cook the vegetables in a cast iron skillet on the stove. That seems to work best for us.
Serve it on a low carb tortilla shell or on top a bed of lettuce. Enjoy this restaurant quality food for half the price!
Fajita Marinade (THM: S, low-carb)
Ingredients
1/4 c. olive oil
1 t. grated lime rind (make sure not to get any of pith (the white stuff under the rind) because it tastes bitter)
2 1/2 T. fresh lime juice
2 T. Worcestershire sauce
1 1/2 t. ground cumin (if you don't love the flavor of cumin back it down to 1 t.)
1 t. salt
1/2 t. oregano
1/2 t. black pepper
2 garlic cloves, minced
2 c. low-sodium beef broth or stock
Instructions
Whisk all ingredients together.
Pour over meat and vegetables and let marinate for a minimum of 4 hours. Overnight is best to really let the flavors soak in.
Notes
***Do not marinate meat and vegetables in the same container. This leads to cross contamination. If you are using more than one variety of meat, put them in separate containers as well.