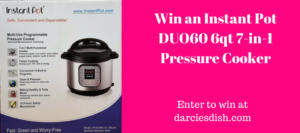 ***This post contains affiliate links. You are in no way obligated to purchase anything. If you do so I receive a small commission, which does not affect your purchase price in any way. By purchasing through my affiliate links, it helps to cover the costs of operating my site. Thank you for your consideration and support!
In honor of launching my site Darcie's Dish, a giveaway is in order! When I was thinking about what item to give away, one thing kept popping into my mind over and over – an Instant Pot. I have had mine for just about a year and let me tell you, this little appliance has become such a time saver for me in the kitchen. With five kids, homeschooling, running this blog, running a home and running kids to all their activities, I need all the help I can get in the kitchen.
One lucky winner will receive an Instant Pot DUO60 6qt 7-in-1 Pressure Cooker. This does it all! It is a pressure cooker (hello frozen chicken being done in 20 minutes!), steamer, slow cooker, rice cooker, yogurt maker, warmer and can also be used for sauteing. I LOVE it! I have been using it multiple times a week for the last few months. It has helped me stay on plan with eating when I would have called for takeout otherwise.
Here are some Trim Healthy Mama recipes that can be made in the Instant Pot: Refried Beans, Steamed Eggs, Mushroom Bay Chicken, Rice and Pork Casserole, Steel Cut Oats and Southern Style Green Beans and Jicama.
My personal favorite ways to use the Instant Pot are to cook dry beans (done in 25 minutes once the pot comes up to pressure) and pressure cooking rock solid frozen chicken breasts to perfectly tender meat (done in 20 minutes one the pot comes up to pressure). Yes, you can do either of these in a regular slow cooker, but when you're short on time pressure cooking wins every time.
Now for the giveaway! This giveaway is open to US residents only. One winner will be selected at random when the giveaway closes on Sunday, November 26 at 11:59 pm. The winner will be notified and has 48 hours to respond or another winner will be selected.  Enter below!